二零零三年七月二十四日, 犹它州香柏山市家庭节
(摩门先驱者纪念日)大游行



The Mormon Pioneer Day Parade was leading by the U.S. Flag. This parade is a part of an official Cedar Hills Family Festival celebration events.


Those are who should be respected


"I Pledge Allegiance to the flag of the United States of America and to the Republic for which it stands, one Nation under God,indivisible, with liberty and justice for all."


Thank you our good neighbor...


Margaret is among the ward Parade Team here ...


They are happy and they love the city ...


So...... I know why we have so many fresh milk here ...


July is the only hot month in Utah, but we are still enjoying the parade ...


Clara and Lily is exciting and enjoying ...


And Margaret came back and join us ...


Scottish Band, bagpipes, very hot


They are thinking better when they are up ...


This is the
BYU Cougar's Cosmo
. It is cool!
杨伯翰大学运动队的吉祥物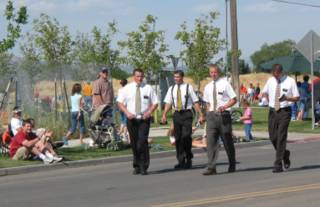 The missionaries
from
The Church of Jesus Christ of Latter-Day Saint
.
耶穌基督後期聖徒教會
的传教士游行中